Recipe
Pasta primavera is a great way to utilize almost anything in your vegetable Victory Garden from tomatoes, peppers, peas, asparagus and more. Don't be afraid to add in or replace veggies in the recipe for others that are ready to harvest. Zucchini, squash and even some fresh thyme are tasty garden additions.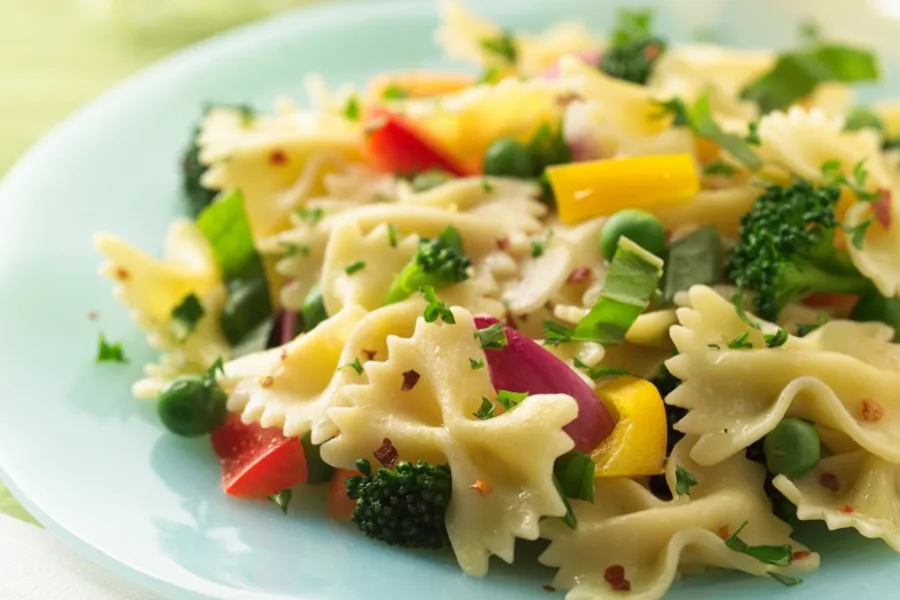 Instructions
Cook pasta according to package directions, while reserving ½ cup pasta water.
While pasta is cooking prepare vegetables. Over medium-high heat, in a large skillet with olive oil, sauté asparagus, bell pepper, broccoli, and garlic until veggies are tender. Depending on the size of your pieces should be about 7-9 minutes. Stir in spinach, peas, cherry tomatoes and continue until spinach has wilted completely tomatoes are warmed through, an additional 4-6 minutes.
Stir in cooked pasta, reserved pasta water, lemon juice and basil. Season with salt and pepper and top with parmesan cheese to serve.
Ingredients
From the Garden
2 Cups - Fresh Broccoli, trimmed to bite size
2 Cups - Asparagus, trimmed to 2-inch pieces
1 Cup - Mixed Bell Pepper, diced
1 Cup - Red Onion, diced
1 Cup - Fresh Spinach, chopped to bite-size
1 Cup - Cherry Tomatoes, halved
1 Cup - Peas
2 tbsp - Fresh Basil, chopped
2 - Lemons, squeezed
From the Market and Pantry
1 lb - Farfalle "butterfly" pasta
3 tbsp - Olive Oil
Salt and pepper to taste
Parmesan cheese for topping