Recipe

Grow everything you need for this recipe in your garden! This recipe really shows off the vine-ripened goodness of your homegrown tomatoes. You can make this gazpacho as mild or spicy as you like by adjusting the amount of hot peppers.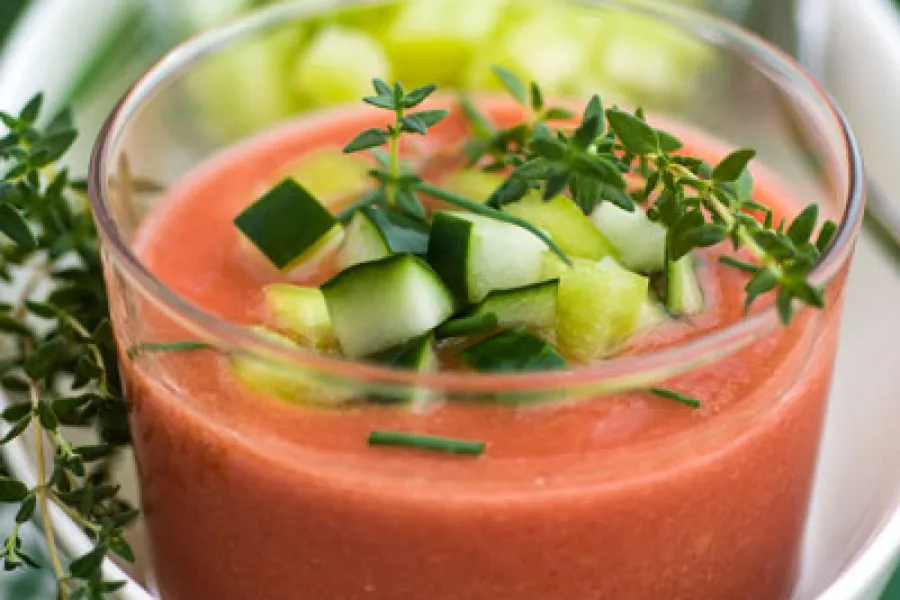 Instructions
Bring a pot of water to a boil. Cut a small X on the bottom of each tomato with a sharp knife and add to the boiling water for just 20 seconds. Carefully remove with a strainer or slotted spoon and put in a bowl of ice-cold water. When cool peel off the skin, cut in half and squeeze out the seeds.
Add the tomato halves to a blender with the tomato juice and olive oil. Pulse on and off until the tomatoes are pureed & pour into a serving container. If necessary, add a little water to thin.
Add the rest of the ingredients into the tomato puree, stir well, cover, and let sit in the fridge for 1 hour to develop flavors.
Ladle into chilled bowls and serve with cilantro. Garnish with extra pieces of the vegetables if desired.
Tip: For a colorful presentation, dice some extra vegetables to top this delicious cold soup before serving.
Ingredients
6 Large Ripe Garden Tomatoes
1 Small Sweet Onion, Diced
2 Cloves Garlic, Finely Chopped
1 Cup - Tomato Juice
2 Tbsp - Olive Oil
1 Large Bell Pepper, Seeded & Diced
1 Jalapeno Pepper, Seeded & Finely Minced
1 Large Cucumber, Seeds Removed
1/2 Lemon, Juiced
2 Tbsp - Rice Vinegar
Salt to Taste
Pepper to Taste
Cilantro - Chopped (optional)