How-to: Plant a Strawberry Jar
How To: Plant a Strawberry Jar
Strawberry jars are tall, upright terra cotta pots with a large planting space at the top, and pockets along the sides. This unique shape is ideal to grow cascading strawberry plants in small spaces with full sun conditions. Follow this simple guide to create your own, adjusting based on your preferences, feel free to get creative and mix in herbs, annuals, and more.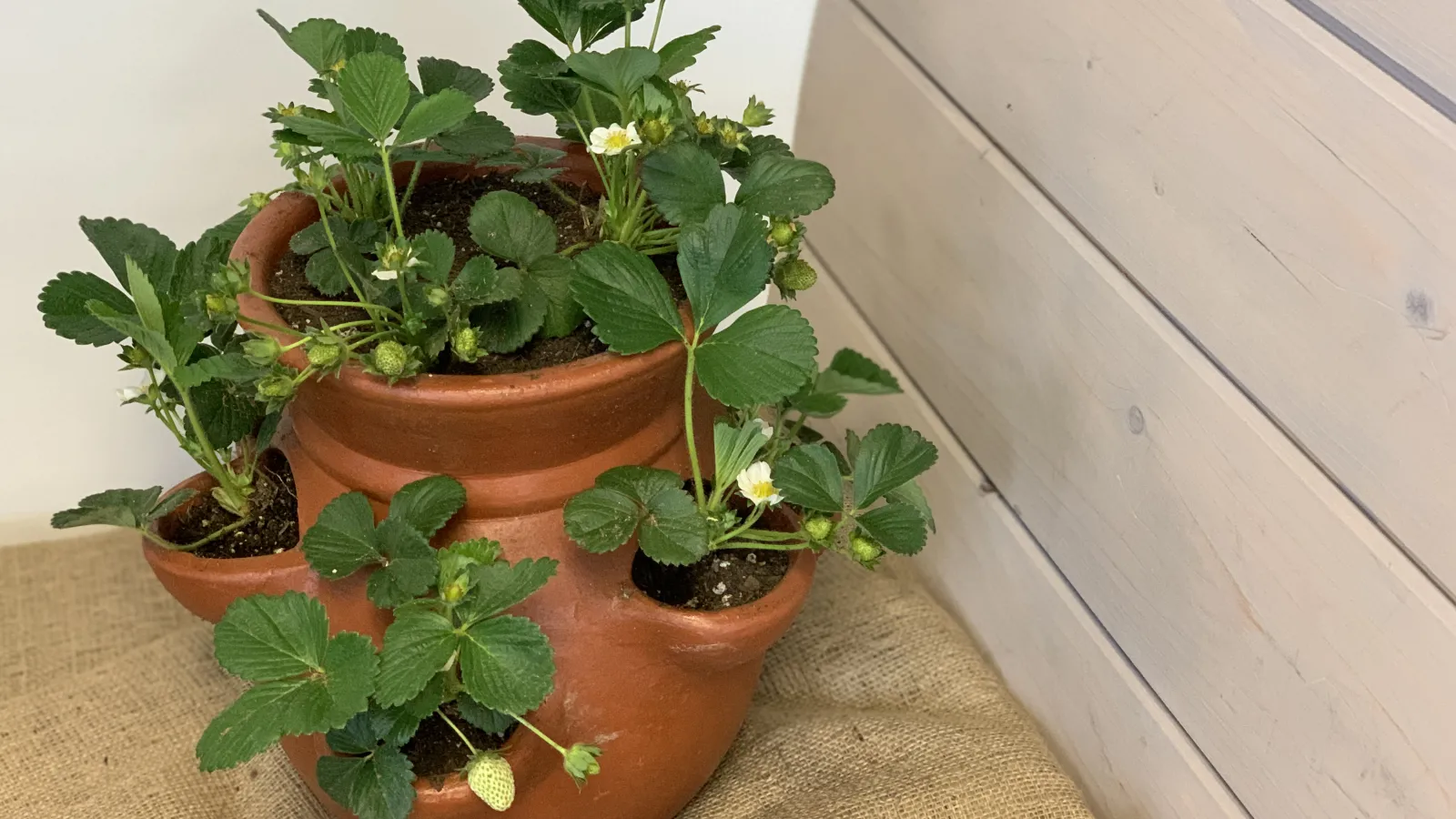 How to: Plant a Strawberry Jar
Transcript

Curabitur blandit tempus porttitor. Integer posuere erat a ante venenatis dapibus posuere velit aliquet. Curabitur blandit tempus porttitor. Etiam porta sem malesuada magna mollis euismod. Morbi leo risus, porta ac consectetur ac, vestibulum at eros.

Ingredients
Garden Gloves
Terra cotta Strawberry Jar
'Keeper Stopper' Pot Screen
Dr. Earth 'Pot of Gold' Potting Soil or Dr. Earth 'Home Grown' Planting Mix
Dr. Earth 'Home Grown' Fertilizer or Dr. Earth 'Root Zone' Fertilizer
Armstrong Grown Strawberry Plants
Planting Tips
This project is great any time of year, strawberries are perennial and can be planted in most any season. Expect blooms in spring and the largest crop of fruit in June; harvest season can be considerably longer based on weather and variety.
Choose a full sun area of your garden to display your pot.
Armstrong grown strawberry plants are available in a range of sizes. Our super-jumbo 6-packs, are great for planting jar-pockets, and 4-inch pots are well-suited to fill the top opening of your jar.
Consider planting pollinator-attracting annuals at the top of your jar, like Alyssum, Marigolds, Zinnas, or more.
Strawberry Plants
Our locally-grown strawberries are available in the best varieties, chosen for proven-performance in California, higher crop yields, and bigger, more flavorful fruit. We grow them locally, in unique super-jumbo multipacks and 4-inch pots so you can enjoy a more robust plant, ready to take-off in your garden.
Terra Cotta Jar Planter
We carry a wide selection of specialty ceramics, including 'Strawberry Jars' in a range of sizes perfect as a table-top accent for spring, or as a large feature in your Victory Garden. These pots are hand-crafted to balance beauty, function, and durability, so you can enjoy healthy harvests of delicious fruit. This is an excellent container for strawberry plants as they will cascade down the sides, making the most of your garden space.
Dr. Earth Soil and Fertilizer
We love Dr. Earth products, they're 100% organic and created with all natural ingredients, perfect to use in your Victory garden. Choose from a wide array of nutrient rich formulas, scientifically crafted to suit the unique needs of your plants and projects. Containerized plants require regular feeding, be sure to apply plant food at the root-ball at planting time, and throughout the growing season.