 Ground covers are an easy, green solution
Ground covers are low-growing plants with a spreading habit that can provide texture and color to a landscape. They are often used in trouble areas like slopes, under trees, rock gardens and around walkways and offer many other benefits to the landscape.

Erosion Control
Help stabilize the soil so it doesn't get washed away by the rain with ground covers. This is especially important on slopes, where other plants won't grow.
Purifies the Air
Plants help purify the air by converting CO2 into oxygen. The more plants; the cleaner the air. Ground covers help other plants thrive by regulating soil temperatures, meaning you'll enjoy a greener, healthier garden.
Helps Ecosystem
Ground covers can provide shelter or even be a food source for butterflies, birds and insects. Beneath the soil, beneficial worms and microorganisms are protected from drying out where ground covers are planted.
Living Weed Barrier
The dense layer of leaves acts as a natural mulch barrier. By their nature, ground covers spread creating a root system and canopy that makes it difficult for weeds to establish.
Reduces Noise
Ground covers and plants in general, help reduce noise. They absorb noise through their large surface areas, resulting in a more tranquil and verdant landscape.
A few of our favorite ground covers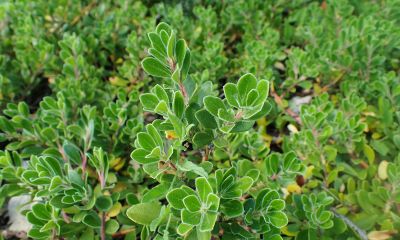 Arctostaphylos uva-ursi 'Emerald Carpet'
A handsome groundcover selection that is compact and dense, with small, glossy, deep green leaves; small white flowers in mid-winter, followed by red fruit; does not like alkaline soils; this is a coastal plant, protect from midday sun when planted inland. Grows 12-in. tall and 4-ft. wide in full to part sun.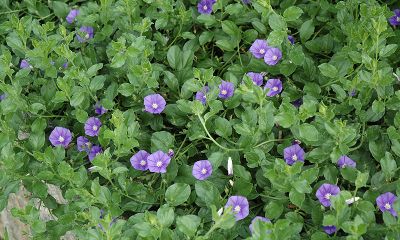 Convolvulus sp.
A wonderful evergreen perennial displaying volumes of pretty lilac and white trumpets all season long; tolerates drought once established; a great groundcover shrub or colorful addition to the rock garden; will tolerate clay if not over watered. Grows 24-in. tall and 3-ft. wide in full sun.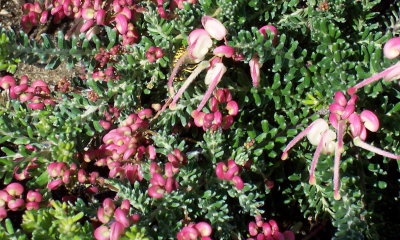 Grevillea ground cover types
A hardy and adaptable species with a dense form and rosemary-like foliage; grows well in most well drained soils; it will also tolerate moderate to heavy frost; pink to white spidery flower clusters mostly in winter and spring. Grows to about 1-ft. tall and 4-ft. wide, depending on the variety, in full sun.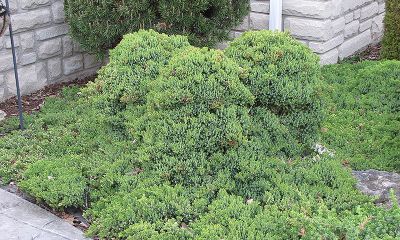 Juniper procumbens 'Nana'
A spectacular and dependable groundcover for sunny locations, extremely low growing and mat-forming, spreads almost indefinitely. Grows 8-in. tall and 6-ft. wide in full sun.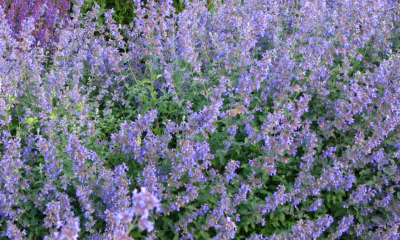 Nepeta 'Walker's Low'
Walker's Low Catmint has masses of beautiful spikes of lightly-scented royal blue flowers with lavender overtones rising above the foliage from late spring to early fall, which emerge from distinctive rose flower buds, and which are most effective when planted in groupings. Grows 12-in. tall and wide in full to part sun.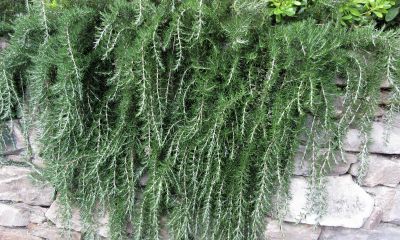 Rosmarinus 'Huntington carpet'
A dense groundcover variety, with narrow green needle-like foliage and deep blue flowers in spring, on a low spreading form; leaves are a mainstay for cooking and as a garnish; an outstanding display when cascading from walls or planters. Grows 18-in. tall and 8-ft. wide in full sun.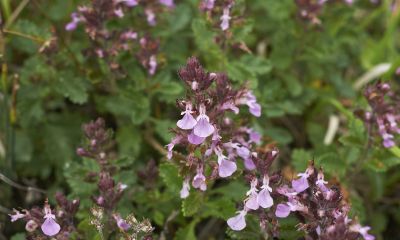 Teucrium chamaedrys
Creeping Germander features delicate spikes of purple flowers rising above the foliage from mid to late summer. Its glossy narrow leaves remain green in color throughout the year. Grows 12-in tall by 18-in. wide in full to part sun.

Grow a greener garden with less water
10 Tips for Waterwise Gardens

10 tips you can use year-round to maintain a waterwise garden no matter the weather.