Recipe
Prepare a refreshing pasta dish full of fresh flavor from the garden. The lemon brings out the essence of the tasty aromatic herbs. Make this recipe our own by adding grilled chicken or shrimp or replace the pasta with fresh zucchini noodles. Show us your lemon herb pasta on Instagram.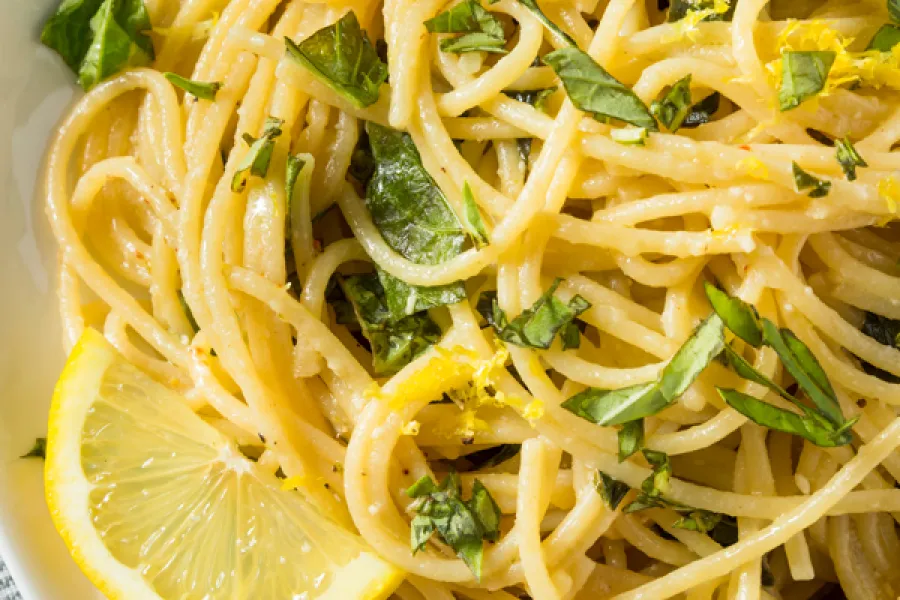 Instructions
Preheat the oven to 375 degrees F. Toast chopped almonds for 4 minutes. Set aside.
Bring a large pot of salted water to a boil.
Heat a large sauté pan over medium heat, add olive oil, crushed red pepper flakes, fresh chili peppers, oregano, thyme, lemon rind, and a pinch each of salt and pepper. Cook, stirring occasionally for 7 minutes then add the garlic.
Continue cooking 3 more minutes stirring constantly until the garlic just starts to caramelize.
Reduce the heat to low and then stir in the olives and cook another 5 minutes.
Meanwhile, add the pasta to boiling water and cook two minutes under package directions - needs to be very al dente. Just before draining pasta, remove and save 1 cup of the pasta cooking water.
Add the hot pasta right into the skillet with oil and seasonings. Add the wine and toss to combine. Cook on low for 3-5 minutes. Remove from the heat and add the parmesan, basil, and mint, tossing to combine. If needed, thin the pasta with a little of the reserved cooking water.
Divide the pasta among each plate. Top with toasted almonds, tomatoes and feta.
Servers 6
Ingredients
From the Garden
2 Tbsp - Fresh Oregano
1 Tbsp - Fresh Thyme
2 Tbsp - Fresh Mint Leaves, Chopped
1/4 Cup - Fresh Basil, Chopped
1 Cup - Red or Yellow Cherry Tomatoes, Halved
1 Lemon - Rind of Lemon, Thinly Sliced

From the Market and Pantry
1/3 Cup - Raw Almonds, Chopped
1/3 Cup - Olive Oil 1/3 Cup - Dry, White Wine
3/4 Cup - Fresh Parmesan, Grated
1/2 Cup - Fresh Feta, Crumbled
1-2 tsp - Crushed Red Pepper Flakes or 2-3 Tbsp of Fresh Chili Peppers, Diced
1/2 Cup - Kalamata Olives, Pitted and Halved
1 LB - Thick Spaghetti Noodles
4 - Cloves of Garlic, Smashed
Kosher Salt & Pepper