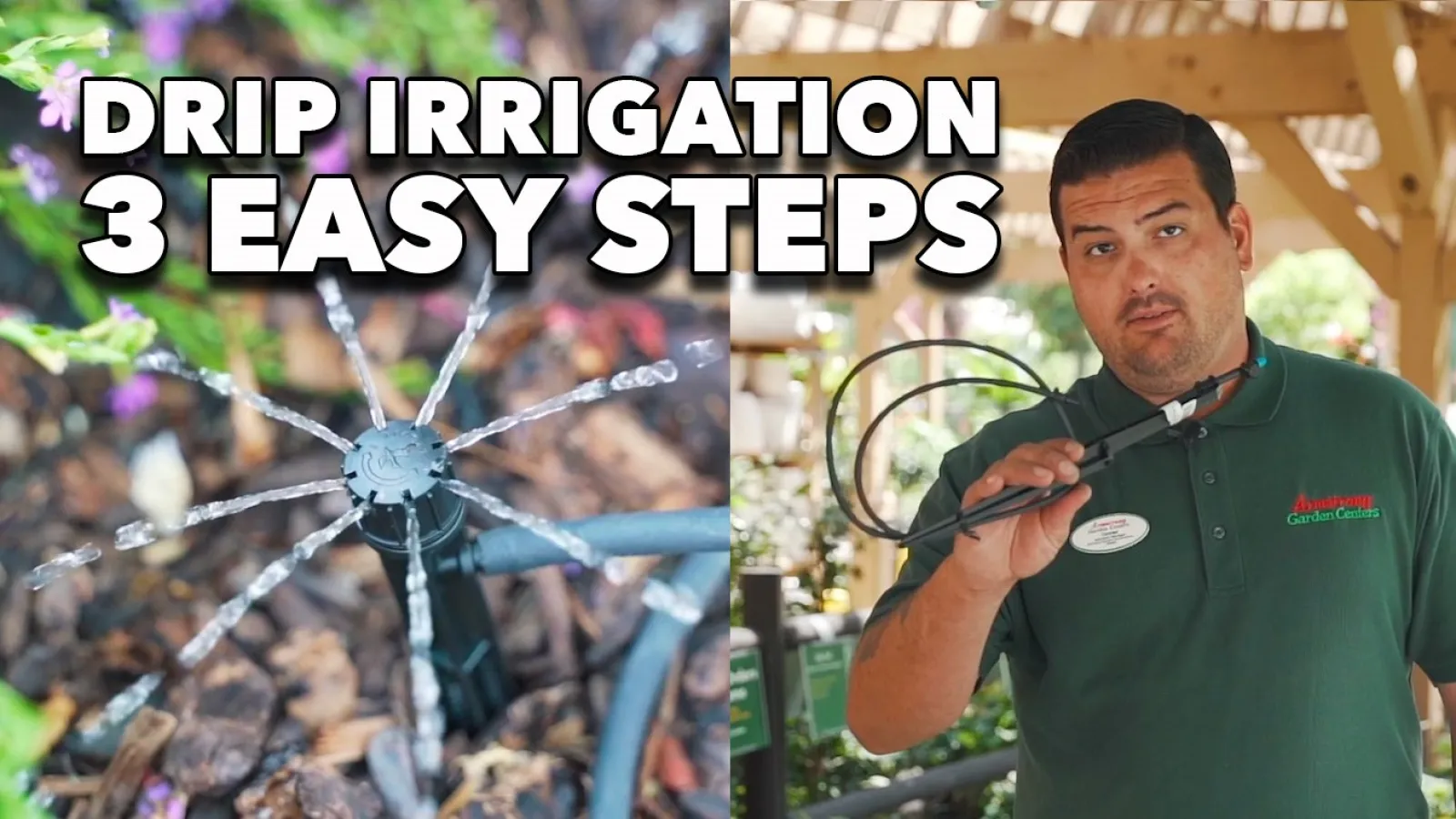 3 Easy Steps to Install a Drip Irrigation System
Drip Irrigation Basics
Have a beautiful garden and use less water. One of the easiest ways to save water in your garden and make your plants healthier is with a drip irrigation system. Unlike other irrigation, drip systems don't waste water through evaporation since the water goes directly into the ground. The water encourages deep roots and prevents diseases caused from water sitting on the flowers and foliage. This guide will teach you everything you need to know about drip irrigation installation.

What is drip irrigation and why do gardeners use it?

Drip irrigation uses micro watering devices placed near each plant as a low volume watering method to gently soak into the soil, irrigating the root zone directly. Water conscience gardeners use drip irrigation for a variety of benefits:

Save water- eliminates wasteful overspray and runoff from standard lawn sprinklers. A typical pop sprinkler can use 0.5 gallons per minute while drip emitters use 0.5 gallon per hour. Drip irrigation has an efficiency rate of over 70% in the landscape.
Save Time- just turn on the faucet to water your garden with no more hassling with hose and sprinklers. Automatic timers can also be installed to schedule watering while you're away.
Reduce Weeding- water your plants, not the surrounding soil where weeds may grow.
Have Healthier Plants- drip irrigation targets root zones for direct, precise moisture for more vigorous plant growth. Less water on foliage reduces fungus and other diseases.
How do drip irrigation systems work?

Think of drip irrigation like our highway system. When traveling from a large city to your home in the suburbs, you first take large freeways out of town. Then, when nearing your neighborhood, you turn onto smaller streets and roads. Finally, approaching your home, you turn into your driveway at your destination. Drip systems work very similarly.
The main part of a drip irrigation system is the tubing. This is how water gets from your faucet (also called a valve) throughout the garden.
Large sizes, or ½" tubing, act as the large "freeways" to deliver water around the yard.
Smaller sizes, or ¼" tubing, act as the smaller "streets" that attach to the ½" tubing that direct water to each individual plant. These thinner tubes are sometimes nicknamed "noodles".
Drip emitters are individual watering devices that attach to the end of ¼" noodles and allow water to flow to the plant. Armstrong will carry drippers that emit water at 0.5, 1, and 2 Gallons Per Hour (GPH).
Other styles of drip emitters we will carry include bubblers, micro-sprayers (jet or fan), and misters. Each have specific uses that are detailed on the packaging.
How do you install a drip irrigation system?

Setting up a drip system can seem confusing and daunting but is actually very simple and straight-forward. Though you will see many different new items in our drip set, they all can be used in a variety of ways to customize your own setup. Constructing a drip irrigation system is like Legos for adults, all the fun of building your own masterpiece!
Connect to a Water Source
First, we must connect our system to our hose faucet. The faucet, or valve, allows water to flow into the system when opened, and stops when closed. To automate your watering schedule, add a Rain Bird hose-end timer. Timers are programable devices that regulate water flow based on a predetermined watering schedule.
Second, the backflow preventor, pressure regulator, filter, and adaptor should be connected. Rain Bird has a convenient product that has all these items in one, called the Drip Watering Faucet Connection Kit. Though each item can be bought individually, this connection kit will save your customers money and hassle.
Rain Bird - How to Install Spot Watering
Drip Irrigation Connection Shopping List
Electronic Hose Timer
Automate your hose-end sprinklers, drip Irrigation system or soaker hose for better scheduling consistency with this easy-to-use digital controller. Combining sophisticated programming flexibility along with extra rugged design for season-long outdoor use, this versatile timer provides worry-free watering convenience.

Faucet Connection Kit
Rain Bird's Faucet Connection Kit provides a simple method for connecting a drip irrigation system to an outdoor faucet. The kit includes a backflow preventer, 25 psi pressure regulator for dependable drip system performance, a mesh filter and an adapter that connects to drip 1/2" or 5/8" tubing.

Run Tubing in Planting Area
Use the larger ½" tubing through all areas of the garden. Running the tubing straight down the center of a garden bed is most ideal.
Another convenient option that we will carry from RainBird is the 100" ½" emitter tubing that has pre-installed emitters every 18". This is best used in an area with many small plants, such as a groundcover, and eliminates the need to buy individual emitters.
Use stakes to secure the tubing to the ground and make sure to use an end cap to plug the end of your line.
Rain Bird - How to Water Landscaped Areas
Drip Irrigation Tubing Shopping List
1/2 in. x 100 ft. Emitter Tubing Coil
Designed for multi-season use, this rugged Rain Bird 1/2 in. emitter tubing provides dependable, uniform watering of vegetable plants, ground cover, flowers and other closely spaced plants. With 0.9 gph (gallons per hour) built-in emitters spaced every 18 inches, the tubing waters evenly from beginning to end of its layout in your planting area.

6in Galvanized Wire Stake for 1/2in Tubing - 10 Pack
Sturdy, long-lasting 6" corrosion-resistant galvanized stake secures 1/2" and 1/4" Drip irrigation tubing securely in place at the root zone of plants. Install one of these 11-gauge steel stakes wherever tubing tries to lift up, or away from your planting or landscaped areas.

1/2in Tubing Poly Stake
Tough polymer stake securely holds all brands of 5/8"; 1/2"; and .700" Drip irrigation tubing snugly in place.

Attach Watering Devices
Determine where along your ½" tubing you want to connect smaller ¼" tubing to attach a watering device. Each plant should receive its own emitter.
Use a hole punch tool to puncture the tubing on the side that faces the plant to run your smaller tubing.
Measure out your ¼" tubing to reach the desired plant. Always use a little extra tubing in case of adjustments. Use a coupling fitting at the end of the ¼" line to fit into the ½" line.
Install your emitter device at the other end of the ¼" tubing and place at the base of the plant.
Lastly, test the system by unplugging your endcap and running the water to flush out any containments like rocks or dirt. Program your timer to desired watering times and that's it, you're done!

Rain Bird - Selecting Spot Watering Devices
Drip Irrigation Watering Devices Shopping List
Shop Kits
Landscape & Garden Drip Watering Kit
Rain Bird's most complete drip irrigation starter kit includes everything you need to water a garden or landscaped area. Simple installation involves running tubing on top of the ground from an outside faucet to the planting area where you place the emitter tubing and drippers near the base of your plants. The watering devices are clog resistant and specifically designed to provide dependable watering of all plants, helping ensure consistent growth, better vegetable yields and resistance to disease.

Patio Plant Drip Watering Kit
Patio watering kit is an easy and convenient way to water your plants and keep them healthy; 40-piece Drip system for watering up to 8 planters. Eliminates watering by hand, making it easy to water plants consistently for faster growth, longer-lasting blooms, and greener leaves. Simply turn on the faucet to water all plants at once, or for automated watering add a Rain Bird 1ZEHTMR hose-end timer (sold separately).