Full Sun Pollinator Planter
Plant a container brimming with beautiful plants that pollinators love.
D.I.Y. Full Sun Pollinator Planter
These waterwise plants require little care and give way to bright blooms in a range of cheerful hues and attract butterflies, bees, and hummingbirds from spring through fall. We've selected plants with complimentary foliage in muted colors, with an elegant white pot to reflect hot full sun conditions. Be sure to select a full sun area of your garden to display your arrangement. Feel free to scale up this project into a larger pot or even in a flower bed, these plants are wonderful in containers or in the ground.
These perennials will look their best when deadheaded to encourage more flowers, and fed with a fertilizer labeled to encourage more blooms. This container is meant to be a temporary feature in the garden; in fall, these plants can be separated and planted into the garden. If you want an arrangement that lasts for many years, consider choosing a larger planter than what is used below.
Ingredients
4 inch Salvia chamaedryoides 'Germander Sage' Thriller
4 inch Euphorbia spp. Filler
4 inch Stachys byzantina 'Lamb's Ears' Filler
4 inch Nepeta spp. 'Catmint' Spiller

Pot and Saucer about 12 inches or more
Keeper Stopper Pot Screens
Dr. Earth 'Pot of Gold' All-Purpose Potting Soil
Dr. Earth Fertilizer 'Flower Girl' or 'Total Advantage'
Shopping Tips
We recommend choosing your pot first for this project, get inspired by the unique textures and finishes. We like the silvery foliage against white glaze, plus white will reflect heat in full sun and help keep roots cool during hot months.
Don't be afraid to scale up this project, or choose an unconventional pot shape (square, oval, etc.) and arrange the plants in a unique way. Whether in containers or in flower-beds, plants look best in odd-number quantities, this will give your project a more natural appearance.
It's okay to swap out plants based on your preferences or seasonal availability. You can choose plants with the uniform flower-color for a monochromatic look, or foliage in contrasting hues for dynamic interest when plants aren't blooming.
Planting Steps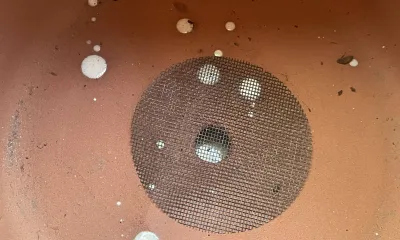 1. Prepare the Pot
Remove tags from your pot and saucer, and place a 'Keeper Stopper' inside over the drainage hole; If it doesn't quite fit, feel free to trim the screen down and adhere with a bit of tape. This screen will help soil stay in the pot and keep bugs out!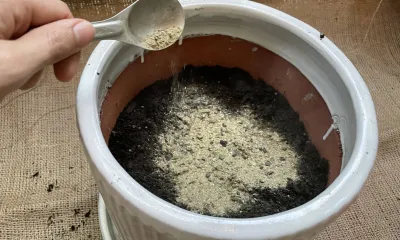 2. Start with Soil
Fill the pot with a generous layer of potting soil, about 2/3 full. Add in your Dr. Earth granular fertilizer and work into the top layer of soil, this will provide the plants easy access to nutrients at the roots. Apply according to the instructions on the package, based on the size of your container.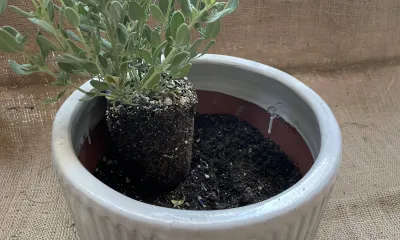 3. Thriller Time
Gently, loosen the excess soil around the root ball of your thriller plant and place it against one side of your pot. Make the most of your container by planting at a slight angle, so that plants reach outward, allowing for more room to grow, and a more impressive appearance. Then gently fill the cracks between the pot and root-ball with soil.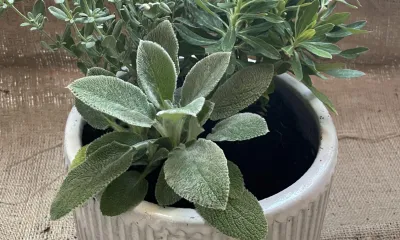 4. Fun with Fillers
Imagine how the plants will work together, and whether this arrangement will have a 'backside' or will be viewed from all angles. Turn the plants carefully, until you are satisfied with the arrangements. It's okay to put everything in place and change your mind, plants will tolerate being handled.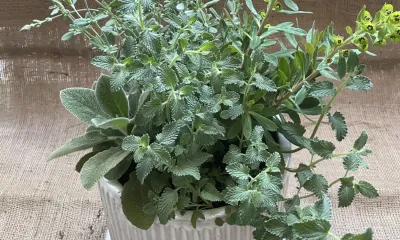 5. Spiller Spot
Place your spiller in the open spot, making sure that the foliage faces outward from the center of the pot, ready to cascade over the side. Now's the time to backfill any open spots with soil, using a finger to make sure soil fills any open air pockets.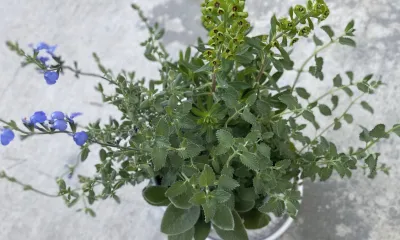 6. Final touch
Finally, be sure to hydrate your arrangement deeply, water once until water runs out of the bottom of the container and repeat. Display in a full sun to part sun area of your garden. Be sure to deadhead spent blooms to encourage more flowers and fuller growth.

Meet the Plants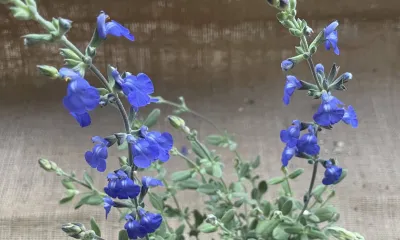 Salvia chamaedryoides 'Germander Sage'
Great to attract hummingbirds, this evergreen shrub blooms from mid-spring through fall. Best in full sun, good in part sun, grows to two feet tall and four feet wide, but will stay smaller in a container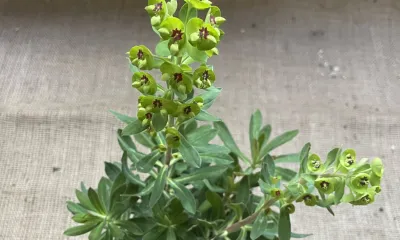 Euphorbia spp.
This unique, waterwise plant is available in many varieties which feature foliage and blooms in a range of colors. Easy to grow in full to part sun reaching from one foot to about three feet tall and wide based on variety, will stay smaller grown in a pot.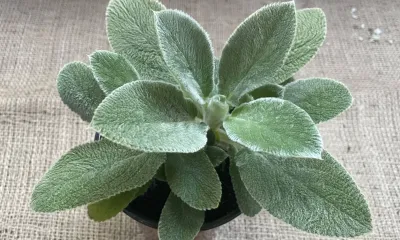 Stachys byzantina 'Lamb's Ears'
Great for attracting bees to your garden. Attractive fuzzy leaves emerge silver in spring and mature to gray, with masses of beautiful pink flower spikes in early summer. Grows to about 12 inches tall and 18 inches wide, best in full sun to part shade.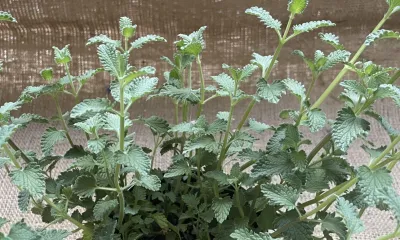 Nepeta spp. 'Catmint'
This spreading perennial is loved by bees. Features fragrant foliage and countless purple flowers from summer into fall. Grows to about one foot tall and wide, based on variety.